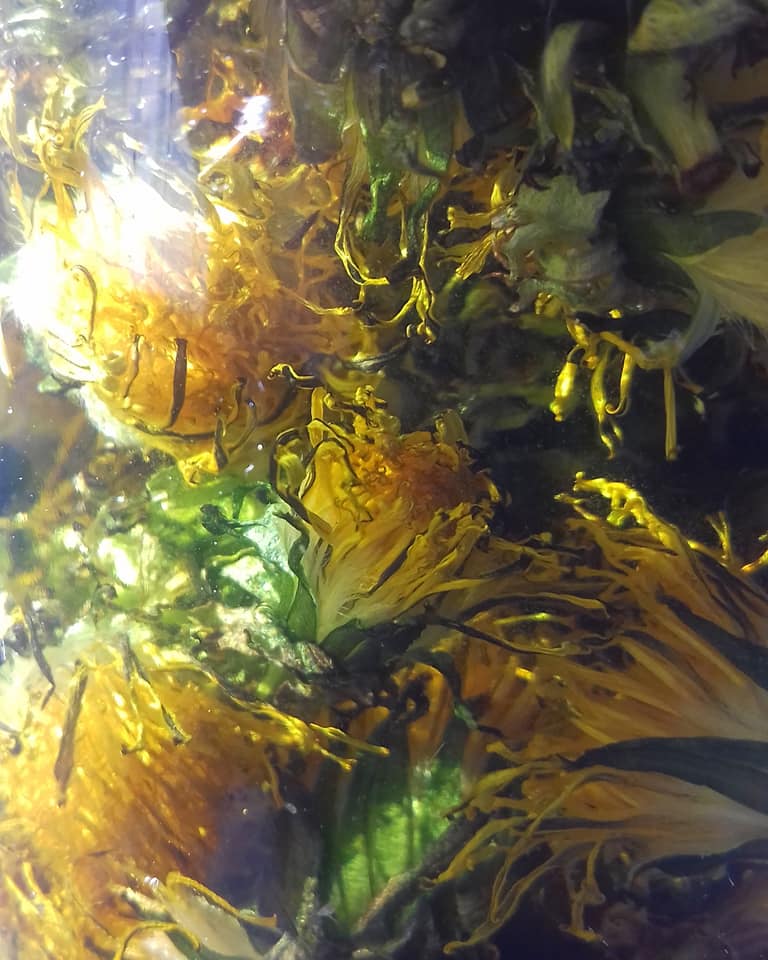 Dandelions rock!
Dandelion balm is nourishing, soothing and a little miracle in your medicine cupboard. It is healing and calming and useful for easing sore muscles, chapped skin, joint pain, and headaches.
It's also a wonderful base to add healing essential oils to, to create balms for many uses. The balm itself is made from Dandelion Infused oil which is made with dandelion flowers which are rich in flavonoids and polyphenols known for their skin healing, pain relieving, anti-inflammatory anti-oxidant, anti-tumor properties. Dandelion is a rich source of vitamins A, B complex, C, and D, as well as minerals such as iron, potassium, and zinc. The rich yellow color, comes from the antioxidants quercetin, luteolin, luteolin 7-glucoside, carotenes, lutein, and zeaxanthin, all nourishing and healing flavonoids.
There are many ways to make oils and balms but here's the tried and tested method that I have used for many years.
How to make Dandelion Infused Oil
Harvest dandelion flowers, no stems. Make sure they come from a pesticide free, pollution free environment ( not the side of the road, all those exhaust fumes get absorbed by the plants ).  Dandelion flowers have a high water content and can quickly spoil and make the infused oil give off a rotten smell — thanks to the coumarin compounds in the flowers. So they need to be dried first. You can use a dehydrator is you have one or the simple method is to lay the flowers out on sheets of paper towel for at least 48 hours, this dries them but also allows any bugs hidden away to escape.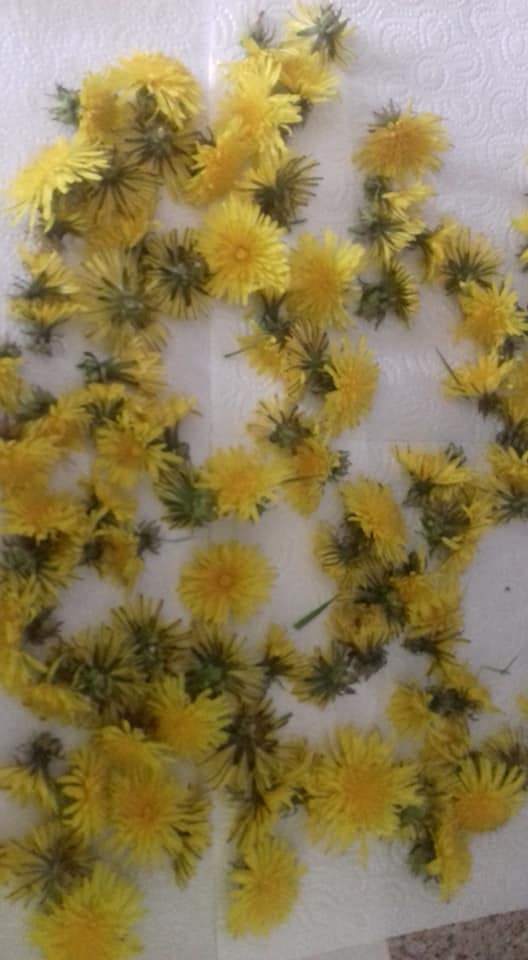 Once dried fill a jar with them. My usual jar is 500 ml.  Fill the jar with a good quality organic oil of your choice, you could use Grapeseed oil or Olive oil ( or a mix of both) as they tend to be the simplest and safest, very rarely is anyone allergic to either. Make sure that your flowers are completely covered in oil. Place a lid on the jar and leave to Infuse for a couple of weeks, in sunshine where possible. The oil will develop a beautiful golden colour. Once ready strain the oil making sure to press the flowers to squeeze the goodness from them and store in a clean jar, sealed and keep in a dark place.
How to make Dandelion Balm
You will need;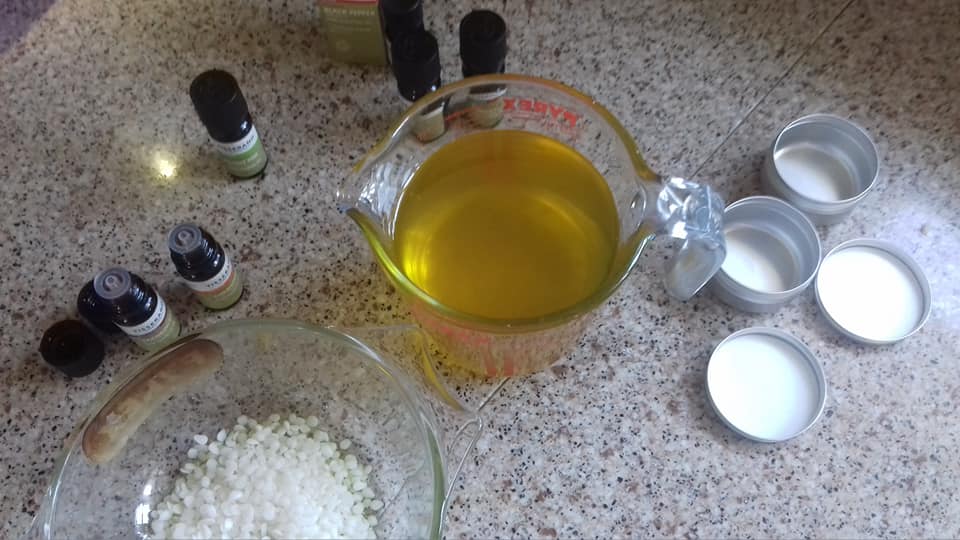 Dandelion Infused oil 500 ml
Organic Beeswax 100 g
A saucepan, a metal spoon, a glass bowl,  enough clean tins with lids ( I usually get 10 x 100ml from this )
Create a double boiler with your pan and bowl. Basically half fill the saucepan with boiling water and place on a  medium heat with the glass bowl sitting on top. Do not get any water in the bowl.
 Add your beeswax pellets to the bowl and slowly melt them to a clear liquid. If you leave any solid pellets it will make your balm grainy.
Once the beeswax is liquid carefully add your 500ml of infused oil and heat gently to clear again. It will go cloudy but heat will thin it out.
If you want to add any essential oils at this point add just before pouring so that the heat doesn't break down the oils. Use up to 25 drops in total of your chosen oils.
Pour your liquid balm into your tins carefully and slowly, don't overfill them.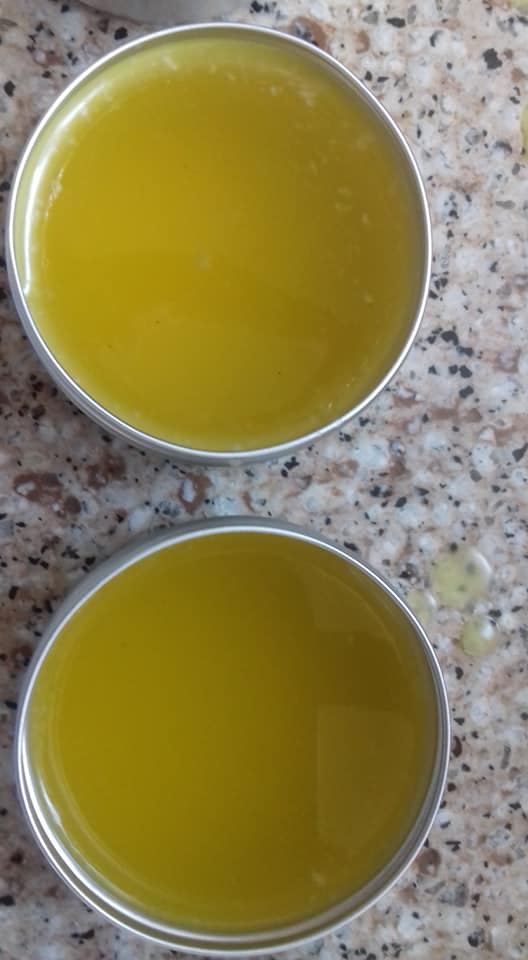 They will begin to set straight away, leave them to cool thoroughly and then put the lids on and label and date them.
The balms should keep for 2 years if kept in a cool, dark place.
It will soften on contact with skin and you only need a tiny amount, a little goes a long way, massage into affected areas. Plain Dandelion balm is safe to use on babies and small children. If you have added essential oils only use on children over 10.