Shamanic Cacao Ceremony
Sunday May 22nd 10am approx 2.5 hours £35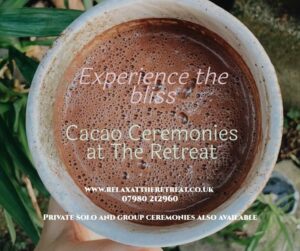 Chilled Sunday morning vibes at The Retreat
This is a gentle but deep dive into the extraordinary blissful essence of Cacao using the finest fair trade ceremonial Cacao sourced directly from the producers. A peaceful, meditative and transformative experience, you will be carefully guided through an entire ceremony with Cacao so that you can relax and enjoy a sense of deep peace and wellbeing.
Our theme for this ceremony will be self love, appreciation for who we are, bringing in the energy of our guides to support us.
The beautiful cacao ceremony opens your heart and removes energy blocks on a mental, emotional and spiritual level, boosting insight and inspiration allowing you to experience the true bliss that only comes with Cacao.
A combination of shamanic ceremony, guided meditation, rest and healing will enable you to begin or progress on your inner journey.
We will connect to the spirit of the plant and the energy in meditation in a traditional shamanic ceremony, with a guided drum journey plus amazing radical rest session.
This traditional cacao ceremony is led by cacaoista Victoria, with over 20 years experience in shamanic practice and plant medicine and a passion for traditional healing.
Join the magical experience and enjoy the bliss and relaxation for a true mind, body, soul experience.
all places must be pre booked, pre paid and all consultation forms must be completed. Limited spaces.
Usui Reiki Training Level 1
Sunday 8th May 2022 10am – 5pm
There are no pre requisite qualifications for this course
Shoden or the first degree of Reiki introduces students to the history of Reiki, their lineage, theory and practical work, consists of Usui Reiki
attunements and 2 Reiju ( empowerments) plus all of the knowledge and skills to be able to carry out self treatments, a regular reiki practice including Hatsurei ho meditations and also treatments for friends and family. All training is from the original teachings by Mikao Usui in Japan . This is a wonderful technique to learn for yourself and also for others if you choose to offer treatments to friends and family. A great Therapy to increase your self awareness or self development and to discover alternative ways to improve your mind, body and spirit or to broaden your skillset as a holistic therapist.
This is a 1 day course including refreshments, course manuals and ongoing support.
Taught by a reiki Master Teacher with over 20 years experience including training from Japan.
Internationally accredited by IPHM