Cacao Ceremony with our Ancestral Guides
Sunday March 6th 10am approx 2.5 hours £35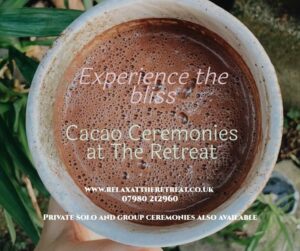 Chilled Sunday morning vibes at The Retreat
This is a gentle but deep dive into the extraordinary blissful essence of Cacao using the finest fair trade ceremonial Cacao sourced directly from the producers. A peaceful, meditative and transformative experience, you will be carefully guided through an entire ceremony with Cacao so that you can relax and enjoy a sense of deep peace and wellbeing.
The beautiful cacao ceremony opens your heart and removes energy blocks on a mental, emotional and spiritual level, boosting insight and inspiration allowing you to experience the true bliss that only comes with Cacao.
A combination of shamanic ceremony, guided meditation, rest and healing will enable you to begin or progress on your inner journey.
We will connect to the spirit of the plant and the energy and connection of our Ancestral guides in meditation in a traditional shamanic ceremony, with a guided drum journey plus amazing radical rest session.
This traditional cacao ceremony is led by cacaoista Victoria, with over 20 years experience in shamanic practice and plant medicine and a passion for traditional healing.
Join the magical experience and enjoy the bliss and relaxation for a true mind, body, soul experience.
all places must be pre booked, pre paid and all consultation forms must be completed. Limited spaces.