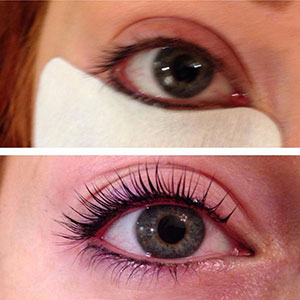 A fantastic treatment for  your natural lashes that leaves them looking longer, thicker and lifted making the eyes appear wider and more feminine. It can even help to make your eyes look younger and lifted by opening them up and surrounding them by beautiful lashes.
The relaxing treatment involves gently lifting and curling the lashes on a specially shaped shield and includes a lash tint to add depth. The treatment lasts around 8 weeks.
There is no special aftercare, no products, no infills or maintenance, no unsightly out growth or gaps to fill, you treat them exactly as you did before the treatment.
A patch test and consultation is necessary, patch tests can be sent by post.